Be immersed in spectacular colour & clarity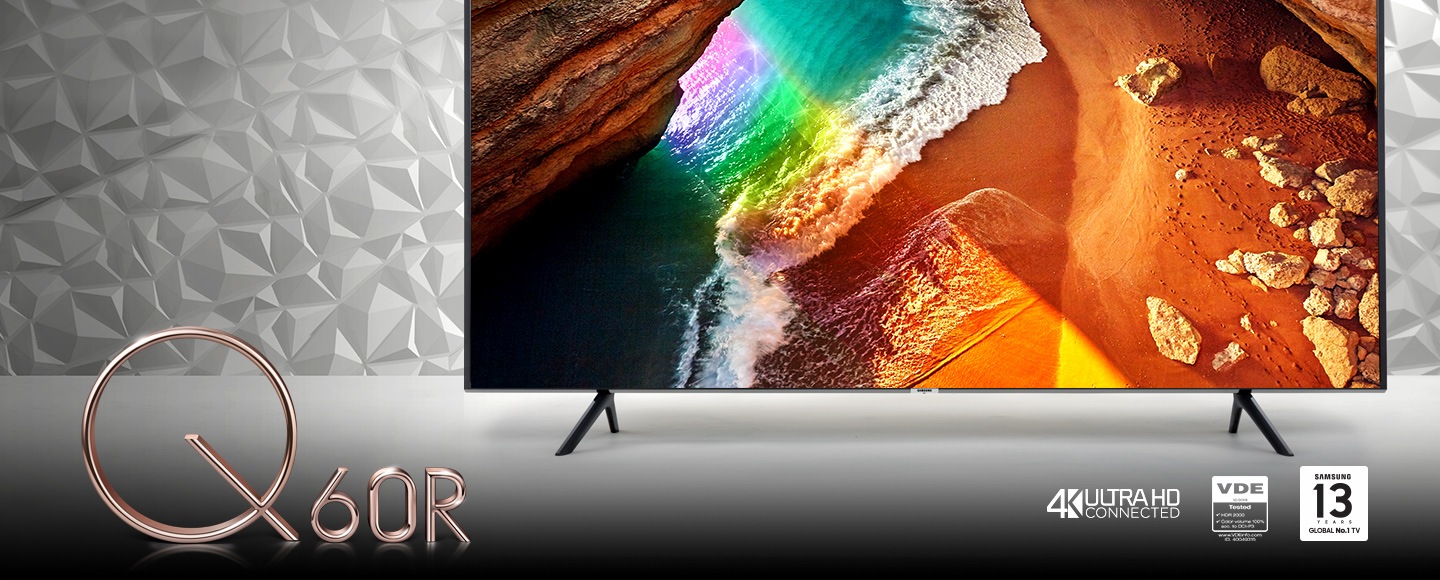 100% Real Colour
with Quantum Dot
Colours as real as they should be. With Samsung's unique Quantum Dot technology, QLED cranks the colour volume to a full 100%*, giving you realistic colours in both dark and bright scenes.
See true HDR in every moment
with Quantum HDR
Quantum HDR
Quantum HDR analyzes the scene frame by frame and fine-tunes the lighting to deliver the optimal brightness for each unique moment. Be impressed by the enhanced clarity and brilliant colours.
Minimal design, maximum impact
QLED's minimal design features slim bezels that allow your eyes to focus on the picture, so you only see what really matters.
Personalize your wall
with Magic Screen
Magic Screen* enables QLED to mingle with your home décor for a perfectly natural effect. Instead of a simple black screen, you'll see meaningful images that match your lifestyle, with easy settings and plenty of choices.
*The Magic screen background setting feature may vary depending on the environment where the TV is installed including, but not limited to, wall designs, patterns, and/or colours. *Setup process requires a Samsung Account. TV must have an internet connection for mobile set-up.
Artworks
Lovers of art will also enjoy beautiful pieces from well-known photographers and artists, all grouped on a variety of themes
.
QLED makes everything easy. Search less, enjoy more.
with One Master Remote & Intuitive Smart Hub
Find your favourite contents easily and quickly on the intuitive Samsung Smart Hub. With the One Master Remote, control all your devices with a single controller, which will be automatically detected and labelled for your easy identification.
Hands-free control with your voice
Bixby on TVControl the TV from the comfort of your couch simply with just your voice.
*Bixby service availability requires Samsung Account login and data connection. Available functions and features may vary by country, region, and language. Not all actions can be completed through voice control. Bixby only recognises certain accents and dialects of English (UK), English (US), French (France), German (Germany), Italian (Italy), Korean (South Korea) and Spanish (Spain). Other supported languages may be added in the future. Not all accents, dialects, and expressions are recognised, and actual performance may vary depending on pronunciation, voice level, and the surrounding environment. * The content within the screen are simulated images and are for demonstration purposes only.
Build a Smart Home
with SmartThings
A truly intelligent home, tailored to your life. With Samsung SmartThings, connect all your smart home devices and control them from your Samsung Smart TV.
Seamless connections
Works with
QLED can be the center of a new and more convenient connected lifestyle. It integrates seamlessly with smart speakers and mobile devices—even from other brands.
QLED meets the new Apple TV app
Now for the first time ever, you can buy, rent, and watch the latest movies with the new Apple TV app on your Samsung QLED. Just click on the Apple TV app icon and dive right in